24 Jun

Pioneer Chairs: Made in USA

There was a time about 40-50 years ago, long before the internet and globalization, where almost anything we bought was made here in USA. Then things started to change and almost overnight we found that everything we are buying is made in another country. At first glance, there does not seem to be a problem with this, however I would like to discuss some reasons below, why it is a problem, and why we should be manufacturing and buying products we make here ourselves in the USA, like the Pioneer Chair.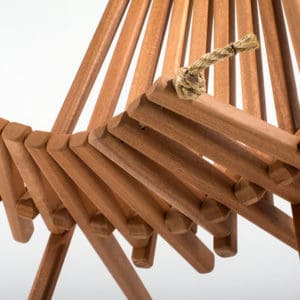 I will start with the environment, and mother earth, which, these days, there  seems to be escalating conflictions about. However, Americans do care about protecting and preserving our planet. We try to not litter, we recycle, and we have a basic moral standard in our country amongst ourselves, where we do not poison our surroundings with industrial waste. Of course this was not always the case but through decades of educational awareness and the implementation of environmental regulations, we have made significant progress. This is certainly something to consider when buying your everyday product.
Take for example, our Pioneer Chair. All of our wood is certified by the Forestry Stewardship Council, which assures it is sustainably farmed and not poached from the rainforest. Furthermore, our chairs are manufactured in the USA under the guidelines of American EPA industrial regulations. Now we have a competitor in another country that makes a similar chair, and yes they sell it for less money, but if you really do care about the environment, then this is where buying an American made product makes a difference. Our competitors do not exercise the same moral codes we do here in the USA about protecting and preserving our planet. There is no Forestry Stewardship

Council, or recycling, and the wood was stripped directly from the rainforest. There is no EPA and their factory is powered by coal and diesel fuel. And so in essence all of these measures that we take here in our own country to protect our planet, can be considered fruitless if we contribute to the growth of other companies and nations that do not take any measures to preserve the earth. Which brings me to the next and more obvious reason to buy American made: economics. When you give your dollar to the company that spoils the environment you are actually contributing to the financial gain and growth of that entity. As those entities grow I ask, "what is the point of having environmental manufacturing regulations if increasingly all of the products the people in the USA buy, are made without any?" Economics obviously does not pertain to just the environment. As our business grows, we spend more money, thus stimulating the economy and buying from other small business, creating growth and wealth. Although money may not be the key to happiness, I think we can all agree that life is better when you have some, so lets not give it away from our economy to a foreign nation that possesses a lackadaisical moral outlook towards the preservation of the planet our grandchildren will live on. If we keep down this path we might very well find our country in a position where we cannot anymore financially afford to live under the EPA regulations we pride ourselves for.